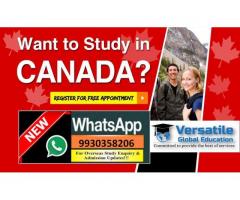 Study + Work + Migrate to Canada!
Whatsapp us at +919930358206.
Learn & Earn in Canada!!!
•Earn and gain practical experience by working part-time after by day 1
•Pathway for 3* Years of Open Work Permit.
•Prospects of applying for Permanent Residence visa are much higher in Canada.
•Earn minimum of $ 11 CAD/hr as per the minimum wages set.
Post Graduations options available:
Business Management
Hotel Management
Culinary Arts
Information Technology
Engineering & many more
For more details Contact us at +91 2222633400/02/04 /05
Email us at info@vge.co.in
Whatsapp us at +919930358206
www.vge.co.in