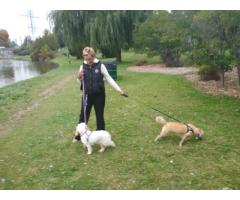 Julspops Dog Walking & Pet/House Sitting Services.
Bonded and insured with PROfur
Covering London and Surrounding area.
"I will be there for your family member, when you can't be" whether it be for a walk, potty break maybe a night away or two, or a well deserved week.
Dates available from Aug 1, 2016.
If you require a business card or a brochure let me know and I will get one to you ASAP. You will find my rates very reasonable.
$10.00 - 15 min walk / potty break
$15.00 - 30 min walk
$17.50 - 45 min walk
$20.00 - 60 min walk
Includes playtime, walk, feeding, top up water bowl, love & cuddles.
Weekly rates are discounted
$70.00 Mon to Fri - 30 min walk
$82.50 Mon to Fri - 45 min walk
$95.00 Mon to Fri - 60 min walk
Includes playtime etc
Prices includes up to 2 pets, additional pets please add $5.00 per pet.
If service is required on a stat hol please add $5.00 to above prices.
Pet Taxi Service - Call for pricing
(if you are unable to take your pet to the vets or groomers I can be there for you. I will drop off, pick up and delivery back home safety).
I do overnight stays, pet sitting for longer periods, and house sitting. Don't let strangers know you home is empty I will come as many days as necessary, water plants, take in newspapers, turn on/off lights, open/close blinds.
Loyalty program
for every 5 x 30 min walks booked you will get a 15 min walk/potty break for FREE.
If you would like to meet for a free consultation please let me know. I would love to meet with you and your pet/s
I have Pet First Aid/CPR, I have my police security check & character refs (on request)
Your pet is my #1 priority.
Please call or email me for any further information.
Sincerely Jules